Breakfast in Belgium is more than just a meal, it's an affair that encompasses the culture, traditions and gastronomic delights of this beautiful European country.
While most of us might associate Belgium with waffles, chocolates, and beer, the breakfast spread in a Belgian household or quaint café actually offers a range of options.
Before you start planning your trip to Belgium, it's important to know that some nationalities need an ETIAS for 90 days for work, tourism, and to study. Once you've got the right documents, you'll be ready to embark on a culinary journey of Belgian breakfasts.
The Belgian breakfast culture
Breakfast in Belgium is generally considered the most vital meal of the day, a sentiment reflected in the leisurely manner in which it's often enjoyed.
Weekdays typically involve a quick, light breakfast before Belgians head off to work. However, weekends are when the breakfast table transforms into a spectacular display of food and drink, regularly extending into a brunch affair.
This mealtime is not merely about consumption but also a time for socialisation, relaxation, and indulgence. Family members and friends gather around the table, exchange conversations and savour every bite.
A history of Belgian breakfasts
The evolution of Belgian breakfasts mirrors the country's diverse influences. Ancient Romans started their day with bread, cheese and sometimes eggs. This practice persisted through the Middle Ages, though breakfast was often skipped or minimal.
By the 17th and 18th centuries, breakfast included bread, butter, cheese and cold meats, a pattern reflected in the typical Belgian breakfasts of today.
The Industrial Revolution brought more protein-rich foods, while French influence introduced pastries such as croissants and pain au chocolat.
Today, the Belgian breakfast is a mix of traditional and modern, with a variety of bread, pastries, cheese, cold cuts, eggs, fresh fruits, hot beverages and international foods.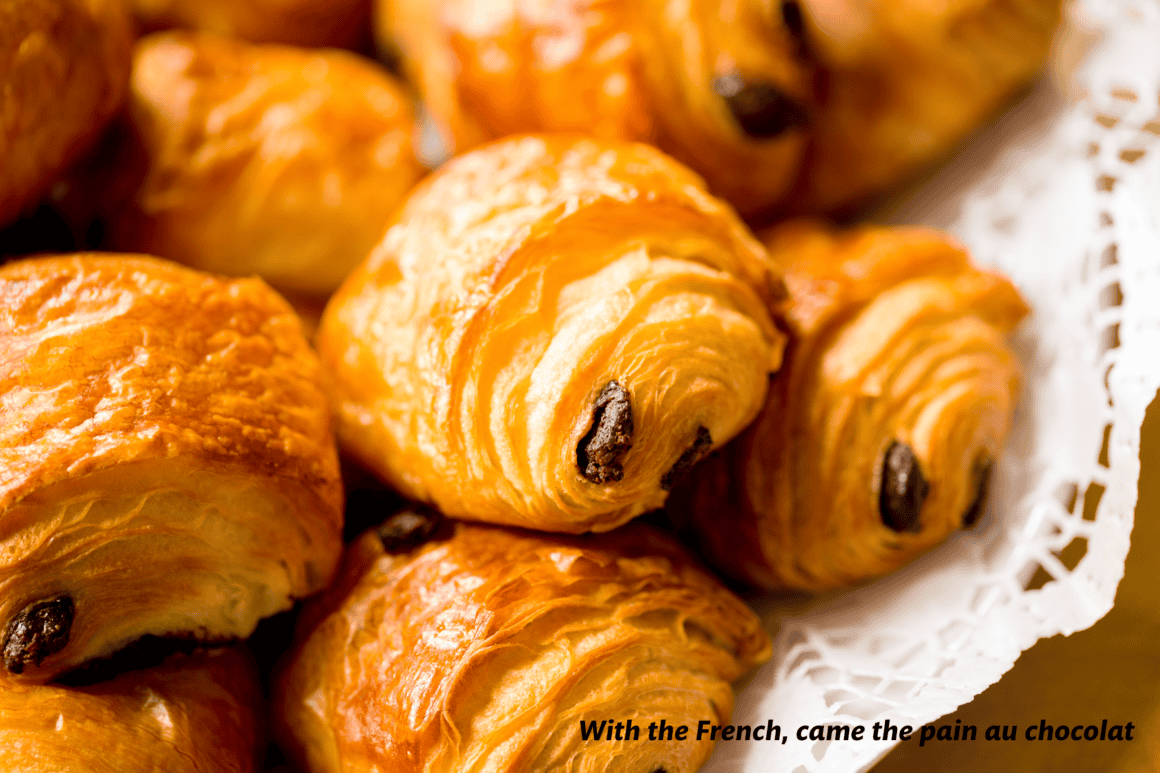 International influences
Belgium's central location in Europe and its rich history of trade and immigration have led to a melting pot of culinary influences. French croissants, Dutch cheeses, German sausages and Italian coffee can all be found on a Belgian breakfast table.
Additionally, the international community in cities like Brussels, Antwerp and Ghent has led to the popularity of global breakfast trends like avocado toast, bagels and smoothie bowls.
The typical Belgian breakfast spread
In this section, we'll take a look a what you'll find on a typical Belgian breakfast table.
Bread and pastries
The heart of a Belgian breakfast is bread, and it comes in many varieties – from white and brown bread to multigrain and sourdough. Belgians love their bread fresh and often buy it from local bakeries.
Pastries are also a breakfast staple, and some of the most popular ones include croissants, pain au chocolat, and danishes. A special mention goes to the 'couque suisse', a brioche filled with raisins and a layer of pink icing sugar on top.
Butter and spreads
In Belgium, no slice of freshly baked bread is complete without a generous slathering of butter.
Belgians also adore a variety of spreads, such as jams, honey and the immensely popular 'choco' – a chocolate spread similar to Nutella.
Cheese and cold cuts
A selection of cheese and cold cuts, including ham and salami, are typical for a Belgian breakfast.
Local cheeses such as Herve, Limburger and Passendale are favoured for their unique flavours and textures.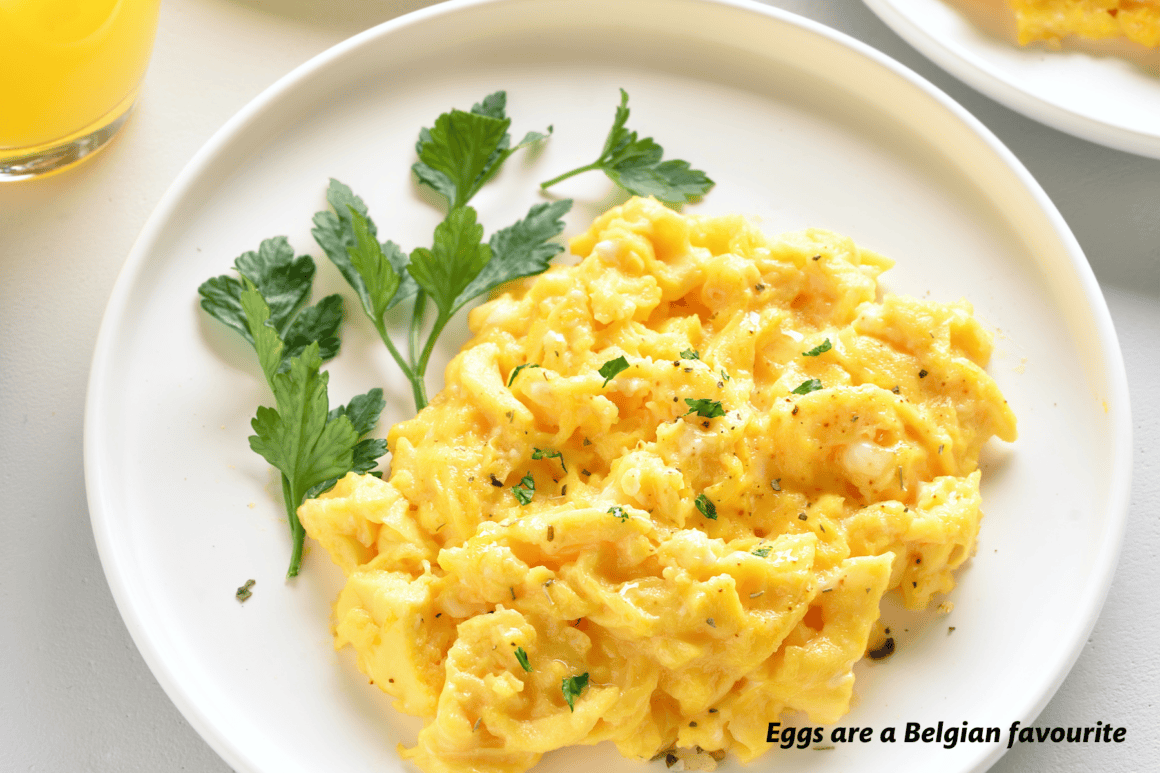 Eggs
Eggs are a versatile component of Belgian breakfasts, prepared in a variety of ways – boiled, scrambled, or as an omelet.
Interestingly, eggs are typically served as a side dish rather than the main course, which is a departure from breakfast traditions in other countries.
Fresh fruit and yoghurt
Fresh fruits, such as apples, pears and berries, are common in Belgium at breakfast time.
Yogurt, often drizzled with honey or sprinkled with granola, is also a popular choice.
Hot drinks
A hot drink is essential for kick-starting the day in Belgium. Coffee is usually served as a café crème (similar to a latte) or an espresso, while tea-lovers can choose from an assortment of black, green or herbal teas.
Belgian breakfast specialities
Belgian waffles
Although waffles are more commonly associated with dessert or a snack in Belgium, they occasionally grace the breakfast table, particularly during weekends or special occasions.
There are two primary types of waffles in Belgium: the Brussels waffle, which is light and crispy, and the Liège waffle, which is denser and sweeter with a caramelised sugar coating.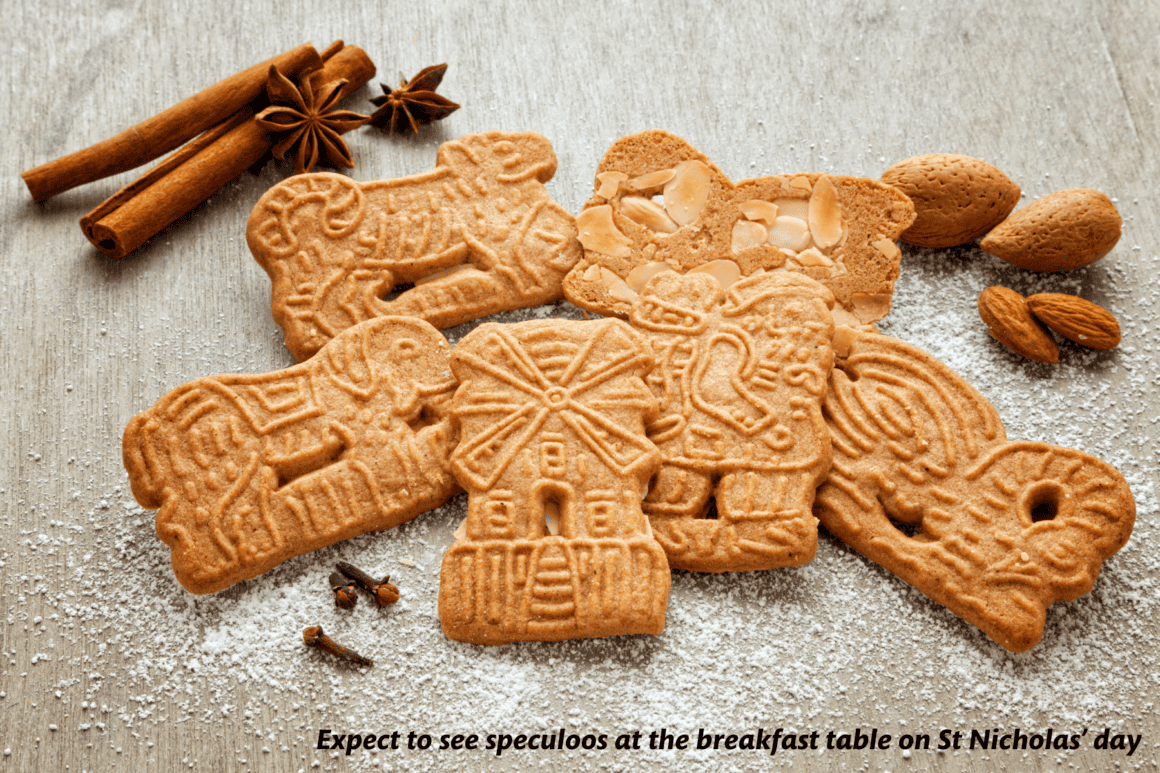 Speculoos
Speculoos is a spiced shortcrust biscuit traditionally baked on, or just before, St Nicholas' day in Belgium, as well as in the Netherlands and Luxembourg.
These biscuits, often enjoyed with a cup of coffee or tea, provide a hint of spice and sweetness, making them a delightful addition to the breakfast spread.
Local and seasonal ingredients
Belgium has a rich agricultural tradition and locals take pride in using fresh, seasonal and local ingredients in their meals.
During the spring and summer, fresh berries, cherries and apples find their way onto the breakfast table. In the autumn and winter, pears, nuts and dried fruits are more common.
Local dairy products, such as cheese, butter and milk, are also staples in a Belgian breakfast. Artisanal bread and pastries made with locally-sourced ingredients are preferred over mass-produced alternatives.
Healthy breakfast options
Belgium offers a variety of healthy breakfast alternatives. Whole grain bread, low-fat cheese, smoked salmon and a variety of nuts and seeds are readily available. Smoothies made with fresh fruits, vegetables and a splash of yogurt or almond milk are also a popular choice.
Additionally, many cafés and restaurants offer a selection of healthy breakfast options such as porridge, avocado toast and salads.
Vegetarian and vegan options
Belgium is becoming increasingly accommodating to vegetarian and vegan lifestyles. Most cafés and restaurants offer vegetarian options and many have started to include vegan options on their menus as well.
Plant-based milk alternatives like soy, almond and oat milk are widely available. Fresh fruits, nuts, seeds and a variety of plant-based spreads can also be found in most grocery stores and markets.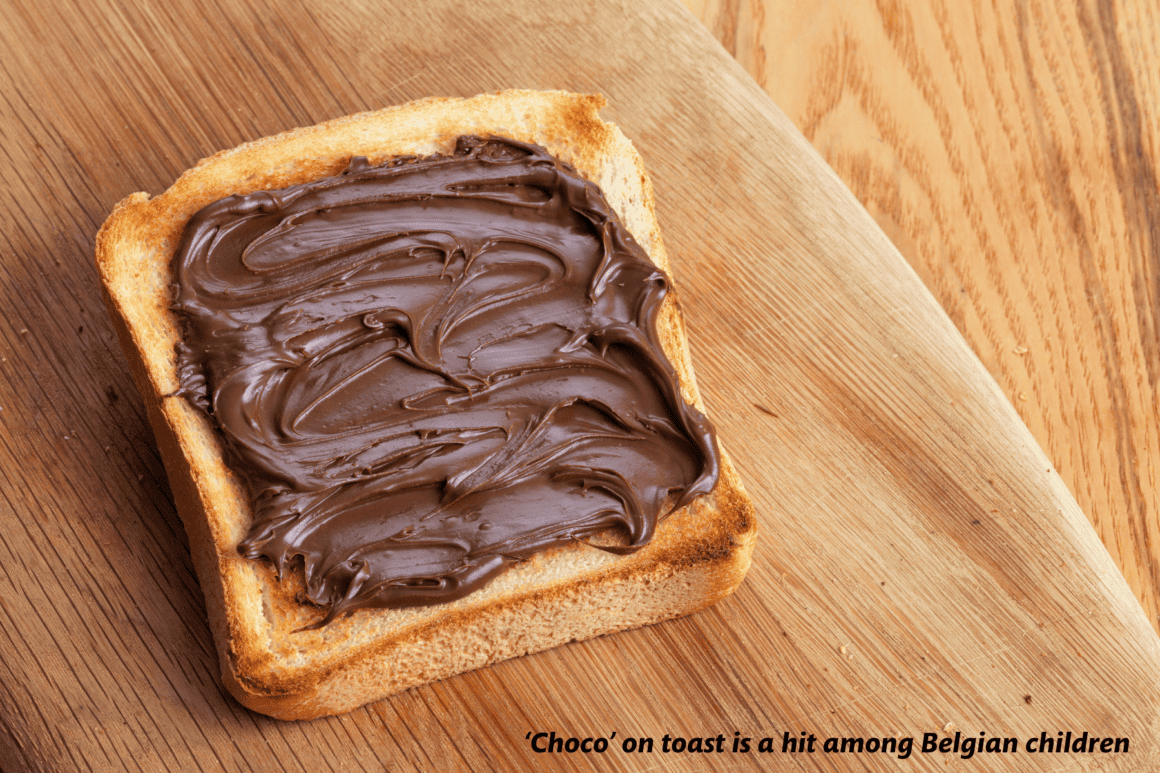 Kid-friendly breakfast
Belgian children typically enjoy the same breakfast items as adults, but there are some kid-favourites that stand out.
'Choco' – the chocolate spread – is a hit among children and is often spread on bread or toast. Peanut butter and jam sandwiches, cereals and pastries are also popular choices.
For a more balanced meal, parents usually encourage a serving of fresh fruits, cheese or yogurt.
Special occasions and celebrations
On special occasions and celebrations, the breakfast spread in Belgium becomes even more elaborate.
Birthdays, anniversaries and holidays typically start with a luxurious breakfast that includes champagne or mimosas, smoked salmon, a variety of cheeses and cold cuts, fresh fruits, and, of course, an assortment of pastries and bread.
During the Christmas season, it's common to have 'kerststol', a traditional Dutch and Belgian Christmas bread filled with dried fruits, nuts and almond paste.
Breakfast on the go
For those with a hectic schedule, a quick grab-and-go breakfast is always available at the numerous bakeries and sandwich shops scattered across Belgian cities.
A sandwich filled with cheese, ham, or salami, coupled with a coffee or freshly squeezed orange juice, is a common choice for a fast Belgian breakfast.
Eating out for breakfast
Experiencing breakfast in a café or restaurant in Belgium is always enjoyable. Most cafés offer a range of breakfast options, from a simple croissant and coffee to a full breakfast spread with eggs, bacon, sausages and toast.
Some establishments even offer an all-you-can-eat buffet breakfast, featuring a vast selection of hot and cold dishes.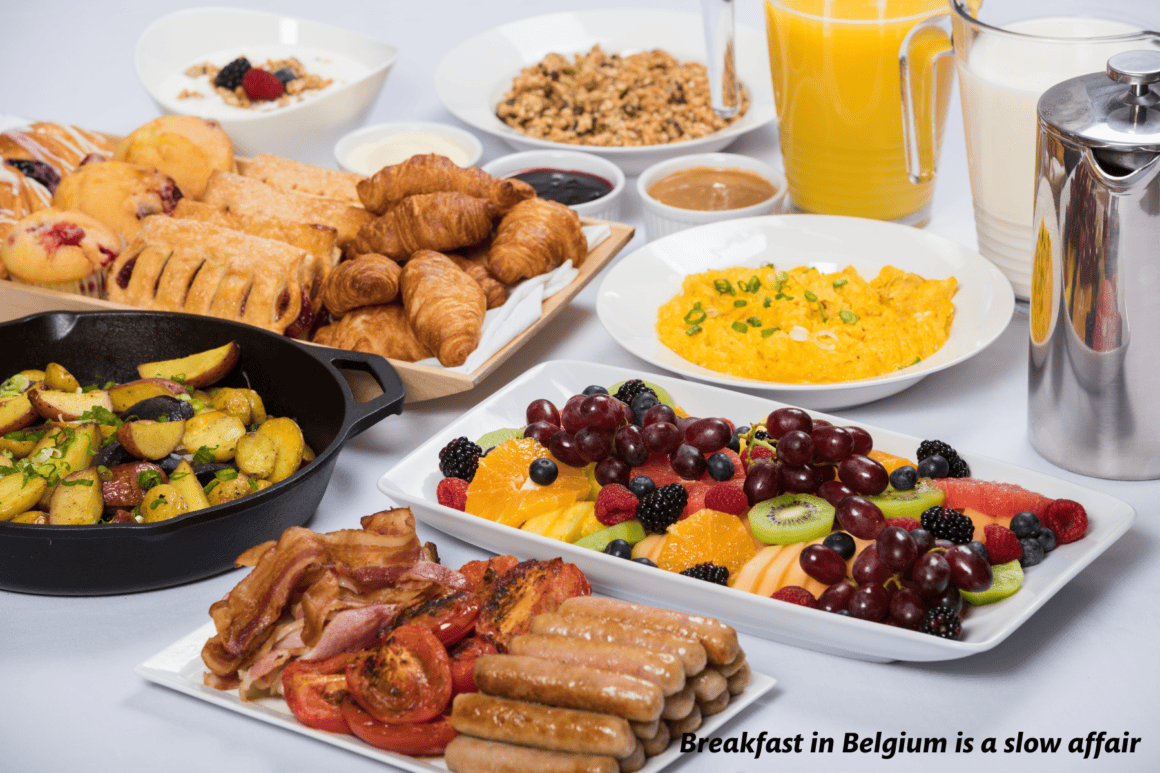 Belgian food customs
While Belgium does not have many breakfast-specific traditions, there are a few general food-related customs. For example, it's customary to wish others "smakelijk" or "bon appétit" before starting a meal.
It's considered polite to finish all the food on your plate as a sign of appreciation. Belgians also take their time to enjoy their food and consider it impolite to rush through a meal.
Breakfast in Belgium is a sensory feast, offering a wide array of fresh, delicious and wholesome options. Whether you prefer a simple, quick breakfast on the go or a leisurely, elaborate spread, Belgium has something to offer every palate.
So, on your next visit to Belgium, make it a point to indulge in a traditional Belgian breakfast and start your day the Belgian way. Your taste buds will thank you!
About the author
Susan Noel is an experienced content writer. She is associated with many renowned travel blogs as a guest author where she shares her valuable travel tips with the audience.
More on food and drink
Hungry for more? Why not check out our guides to some of our other favourite gastronomic experiences around the world.